DB30 Mini Bike Seat Upholstery Black With Lime Green Flames And Trim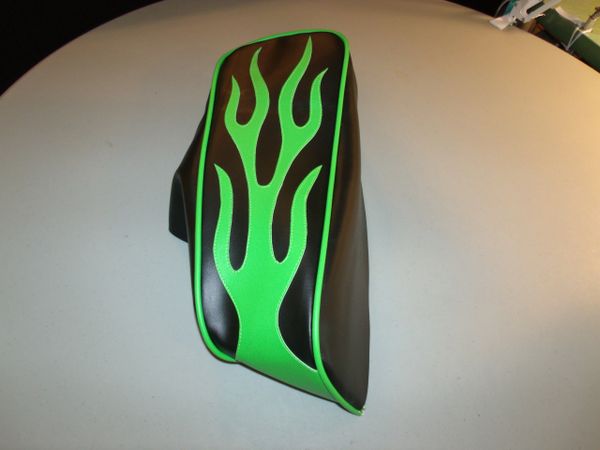 DB30 Mini Bike Seat Upholstery Black With Lime Green Flames And Trim
DB30 Mini Bike Seat Upholstery Black With Lime Green Flames And Trim.  This is a made to order item, you can get this with any color combination.  This is a do it yourself minibike seat upholstery (DIY). Direct Fit for the DB30 Doodle Bug.
To order the mini bike seat upholstery, you must first join Etsy, its free and fun.
These covers can fit older models of mini bike that are the same size as the Doodle bug. These covers are designed to fit the Doodle Bug DB30 mini bike seat, they are 19 inches long from front to back and 5 inches wide across the front, and 7 inches wide across the back, and they can also be adapted to fit many more mini bike seat pan or custom plywood seat pans. You can replace that old worn out seat upholstery that is held together with duck tape, bungy cords etc. with your very own brand new seat for that custom look. They come in many colors and color combinations.

To order a complete mini bike seat, to fit the Doodle Bug mini bike, first you must order the seat upholstery and then order the complete seat kit. Please do not order the the complete seat without first ordering the mini bike seat upholstery.

Choose your favorite color or get the color that compliments your custom designed mini bike. These seat upholstery covers are made from either a naugahyde or marine vinyl, or a mixture of both. They are waterproof and cleans up with a mild soap and water solution or a vinyl cleaner such as Son Of A Gun, or Armor All products. 

Installation instructions are included with the mini bike seat upholstery.

Custom orders are always welcomed here at LXM BOUTIQUE, If you have a custom made seat pan and you want a custom made seat upholstery made, send me a your seat pan measurements such as 7x12 inches. etc. or what ever size you have and I will make you a custom made seat to fit it. 

If you do not see the color you want or color combination, convo me through Etsy or send email to www.lxmboutiqe [!at] gmail.com with your custom request.